Salty Astoria Stickers >>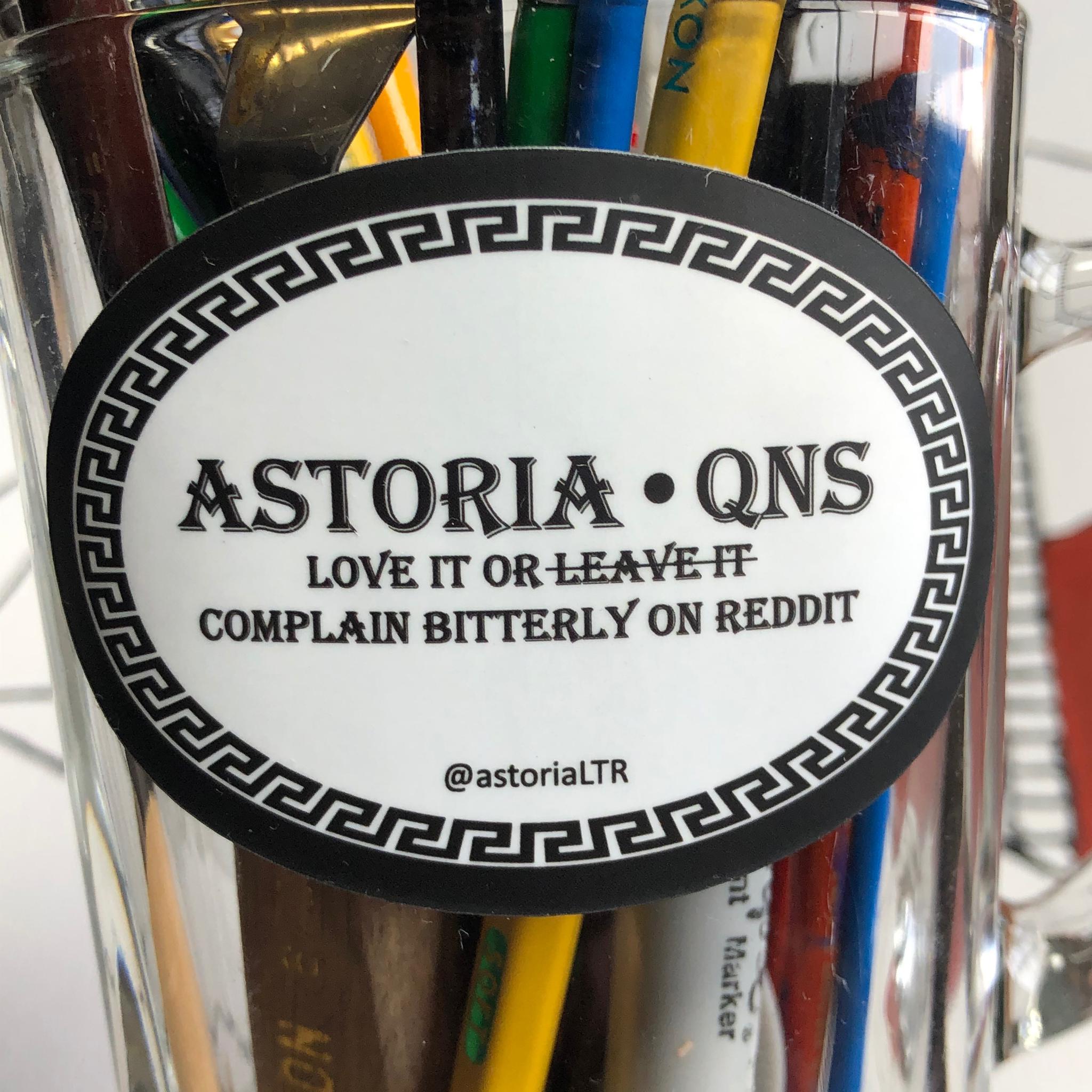 Sticker 1 - 2x3" oval
ASTORIA • NYC  - ONLY THE NONCHALANT SURVIVE fart cars • inexplicable fireworks • occasional electric arc flashes • helicopters. so many helicopters
You can't fit all the good stuff about Astoria on a sticker. The "WTFs?!" fit perfectly. 
Sticker 2 – oval, a little under 2x3"
ASTORIA • QNS - LOVE IT OR LEAVE IT COMPLAIN BITTERLY ON REDDIT
Not snark: Astorian subredditors are generous with tips, insights and local knowledge on any concern (or complaint) you might have.
What can I slap these stickers on? Laptops, phone cases, electronics, kitchen canisters, water bottles, bike helmets, car windows
More specs: Laminated. Matte finish. Waterproof. Scratch resistant. Split-back for easy peeling. Strong adhesive will stick tight to smooth surfaces, but can be removed without shredding or residue. Made in USA.
How much and what are the payment options? $3 each ($2 ea. if you buy 5 or more) Zelle, Venmo, or PayPal. To order, DM on Instagram (@astorialtr) or email me: tracyinfield at gmail dot com

If you want to send stickers to a friend (or yourself), I will mail them safely swaddled in recycled cardboard; add $2 S&H. Otherwise we can arrange a local pick up / drop off. 
If you're shopping local, look for them at Gift Box - 25-11 Broadway, b/t Crescent & 29th St (Broadway stop on NW). They are wonderful about featuring local artists & makers and have tons of Astoria-made jewelry, cards and home goods.